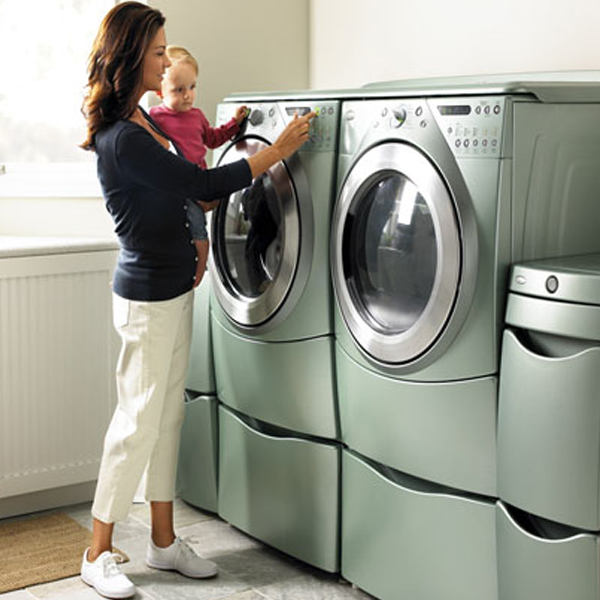 Is your washing machine leaking and leaving puddles on your floor? Are your clothes still dirty after you've washed them? Is your washer making an awful noise every time you turn it on? If you are experiencing any of these problems with your washing machine, Conner's Repair can offer you expert washing machine repairs. Providing comprehensive washer and dryer repair services for homeowners in the Warren area, our professionals have 30+ years of experience handling problems with washing machines. All of these years working in the industry have prepared our technicians to deal with nearly any problem, large or small, so you can rest assured that we'll be able to find a solution to your washing machine's malfunction. Instead of living with a leaky or noisy washer, call Conner's Repair today!
Although they may appear simple, washing machines are actually very complicated appliances that consist of a lot of different parts. When one of these parts malfunctions, it can throw off your entire unit and make it less effective or even inoperative. At the first sign of trouble, you should contact the qualified technicians at Conner's Repair. Our professionals can provide you with washing machine repair if your washer is:
Leaking
Not filling up
Not draining
Not agitating
Not spinning
Not turning on
Turning off mid-cycle
Making strange noises
Not cleaning your clothes
Causing an unusual smell
Or exhibiting other signs of malfunction
Washing machines are meant to make our daily chores around the house easier, not cause a headache. When a washer is not functioning properly, it's important to bring in the washer-dryer repair experts from Conner's Repair. Our extensive experience providing washing machine repairs to Warren-area residents means we'll be able to pinpoint the problem with your unit and provide you with washing machines repair that will make your washer function more efficiently.
Washer Repairs That Are Kind to Your Wallet!
Don't rush out to buy a new washer at the first sign of trouble! This could end up being really expensive for you and your family, and there is often no need to spend so much on a replacement. Washing machines repairs can help your washer run like new again, and they are usually more cost effective than replacement, if you select the appropriate washer and dryer repair service. Plus, at Conner's Repair, we'll even waive your service call charge when you hire us to complete the repairs. You don't have to deal with the extra cost or the hassle that goes along with buying a new unit when you have the chance to work with our technicians for effective repairs.
When in need of washing machine repair, call the pros at Conner's Repair. We can offer you professional GE washing machine repair, Maytag washing machine repair, and more. With our timely and affordable services on your side, you won't have to deal with laundry piling up any longer. Call us today!